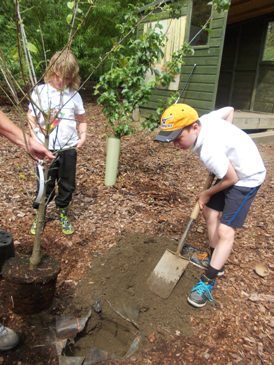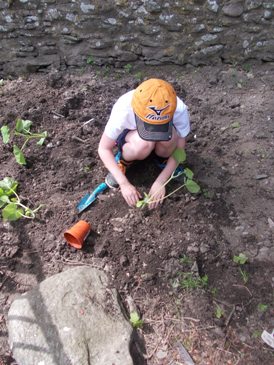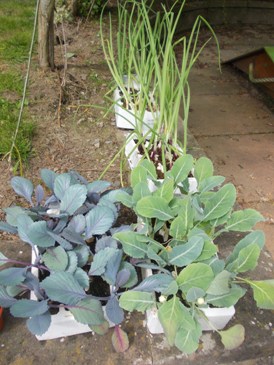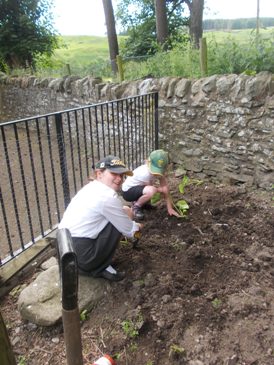 Here we are busy planting on our garden
Well done Lethnot for achieving their eco schools green flag. A big thank you to everyone for all their hard work in helping us achieve this.
A Big thank you to Mr McLean for putting our mural that we designed ourselves on to our sheds. They do look good..
This is our eco poem which we have written ourselves
We hope you like it
Don't be bitter
Minimise your waste
Do something good for our race
Walk to school if you were born with legs
If its too far, take a bike instead.
We've got a bat box here
Its where they go sleep by day
We've got bird feeders here
It's where they like to eat their seeds
Even got a bug hotel
Its real posh for all the critters
We rely too much on energy
So why don't you save some power today
Our school is Lethnot we want a green flag...
And we must try
until we just break down and
DIE DIE DIE DIE DIE DIE DIE DIE
cos we've got eco style
Reeeeeeecycle litter
Whoop Whoop Whoop Whoop Whoop
Cos we've got Eco Style!!
Reeeeeeecycle litter
Whoop Whoop Whoop Whoop Whoop
Cos we've got Eco Style!!
COS WE'VE GOT ECO STYLE!!!!!!!!!!!
Our Water Butt
Our Outside compost bin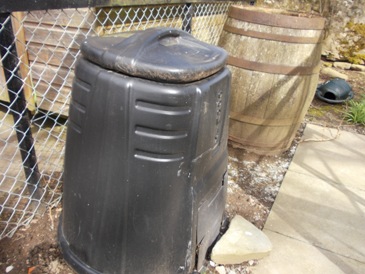 We put all our fruit skins in this bucket and empty it every week into our outside compost bin.
Miss Wright helped us clean out our pond
Eco committee

We have set up a committee with pupils and parents and are aiming to get our Green Flag Award. As a committee we gave ourselves different jobs. Each person had a different job and this will help to make our school more eco-friendly. As a group we discussed what things we could do to improve the school. Our greatest aim is to grow our own fruit and vegetables therefore we have decided to build a vegetable patch.

Compost Leader is in charge of our new compost bin.

Electricity Leader monitors the amount of electricity we use. She reminds us to turn off the lights and computers when they are not in use. On the 25th March our school is taking part in Earth Hour where we will have no electricity for a whole hour.

Bird Feeder Leader she is in charge of feeding the birds.

Recycling Leader make's sure everyone uses the bins correctly. We also recycle ink cartridges.

Litter Monitor ensures that people use the bins outside. We hope to receive our silver awards with in the year.
Gardening club
One of our parents is running a gardening club after school. This is a picture of us with one of our plants that we planted.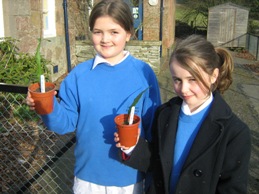 emptying our recylcing boxes washing out our plastic bottles